FREEBIE + Themed Interactive Notebooks!
Well, hello there!!!  I am so excited about opening day of baseball that I of course had to go with a baseball header picture 🙂  Thanks so much for stopping by today!  I have a few freebies to share with you so I'll just right in!  After I released my KinderMath Interactive Notebook and FirstieMath Interactive Notebook, I released a couple seasonal themed interactive notebook freebies!  I posted those for Christmas and Winter!  They were both a hit and it was requested that I make a complete K-1 THEMED interactive notebook!  So………. I did 🙂  I've had a few questions regarding if this was new content and YES it is!  All 200 pages are brand new!
Let's say you're stopping by today and scrolled down to see "interactive notebook" and your skin crawled a little like… "Ehhh!  That sounds like a lot of work and I'm not sure if my kids would really benefit from notebooks!"  Well,  that is a legitimate concern and I hope to open a new side of notebooks for you!  This time of the year would actually be a GREAT time to start because our kiddos already know how to cut, glue and turn pages.  Sounds trivial but August in kindergarten we are still jaw dropped at watching our kids "glue" and "cut" 😉  In the spring, our kids are starting with their "boring" talk and we are trying to pull all the stops to keep the kiddos engaged and excited about the CONTENT we are teaching!   The great things about notebooks, they are all content based- just super fun and engaging!
Step One:  Cut out the "I can" statement and the large pieces.
Step Two:  Do the necessary "work".

Step Three: Glue in the "I can" statement.

Step Four: Organize the pieces.
Step Five: Glue in the pieces.

If your students are brand new to interactive notebooks then you can also show them this "how to" book for each step!

You can watch more about the "how to" book below!  You can also download this as a FREEBIE HERE!
Let's take a closer look at the NEW THEMED interactive math notebooks for K-1!
What do you mean K-1?  So, kindergarten and first grade material is included?
Yes, exactly!  Each month comes with 20 pages of material!  There is an equal balance for K-1.  Why is this beneficial?  Well, for one it eliminates you needing two packets 😉  But it's great because it allows for easy differentiation!  If you're meeting with your lower kiddos then you pull them a kinder sheet!  Let's say you're meeting with a high kinder kiddo… you can then pull them out a firstie sheet!
What kind of THEMES are included?
The themes are monthly based!  Each month (September-June) comes with 20 pages, so 200 total pages!  You of course can choose to use the themed pages in any order and a lot of the themes are not necessarily tied to just one month!
How can I expand these pages into more of a lesson?
If you are wanting to use these sheets for more of a lesson focus then that works as well!  Each sheet is an all-in-one math lesson!  For example, the activity below is ordering numbers!  The students are able to solve on their desks before pasting into their notebooks!  They can also self check with a partner!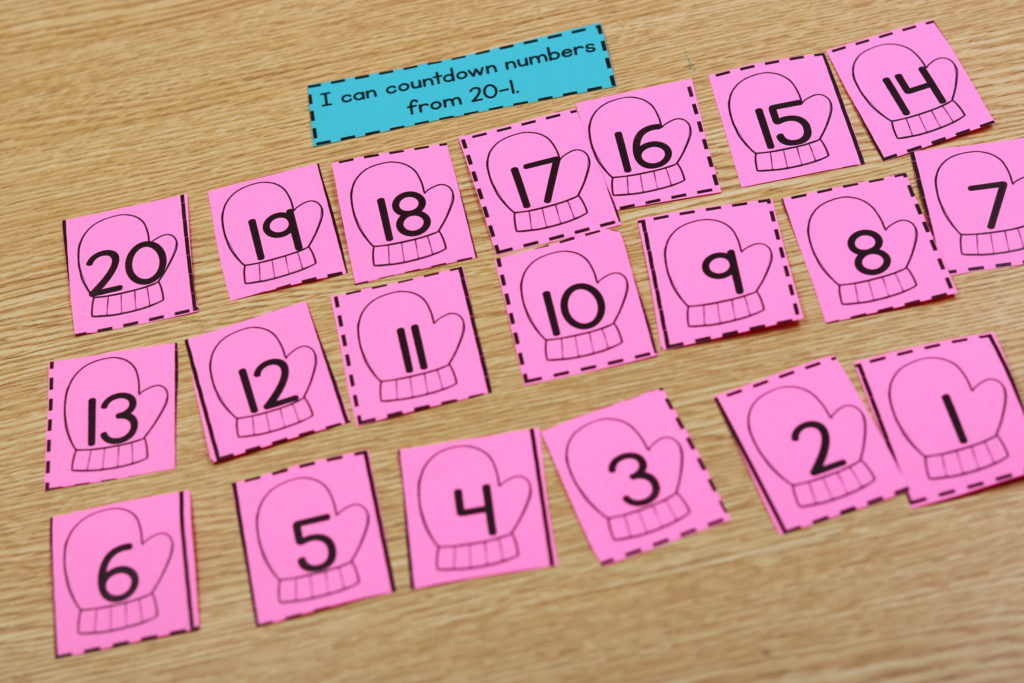 Is ALL of the material new?
Yes, ALL of the pages in this packet are brand new!  There are no repeats from my other Kinder or Firstie Interactive notebooks!
Are the sheets aligned to KinderMath and FirstieMath?
Well, yes and no!  This is a supplemental notebook so it won't match up to the curriculum programs like the other two notebooks did!  Remembering that this one is a combo of K and 1!
Let's get a look and check out the previews!
September:
October:
November:
December:
January:
February:
March:
May:
June:
Now let's talk FREEBIE!  I have compiled a freebie preview for you!  I always believe in allowing you the opportunity to try the materials with your students first!  You can download this *INSTANT FREEBIE* to try out the notebooks for yourself!
If you are interested in the Primary K-1 Themed Interactive Math Notebook…then you can grab it for *50% OFF*  This is a short time offer and will expire at the end of March!
Did you miss out on these two previous FREEBIES?  Snag them NOW!
Click below to download each!

Are you interested in my aligned KinderMath and FirstieMath interactive notebooks?  Click on them below to view!