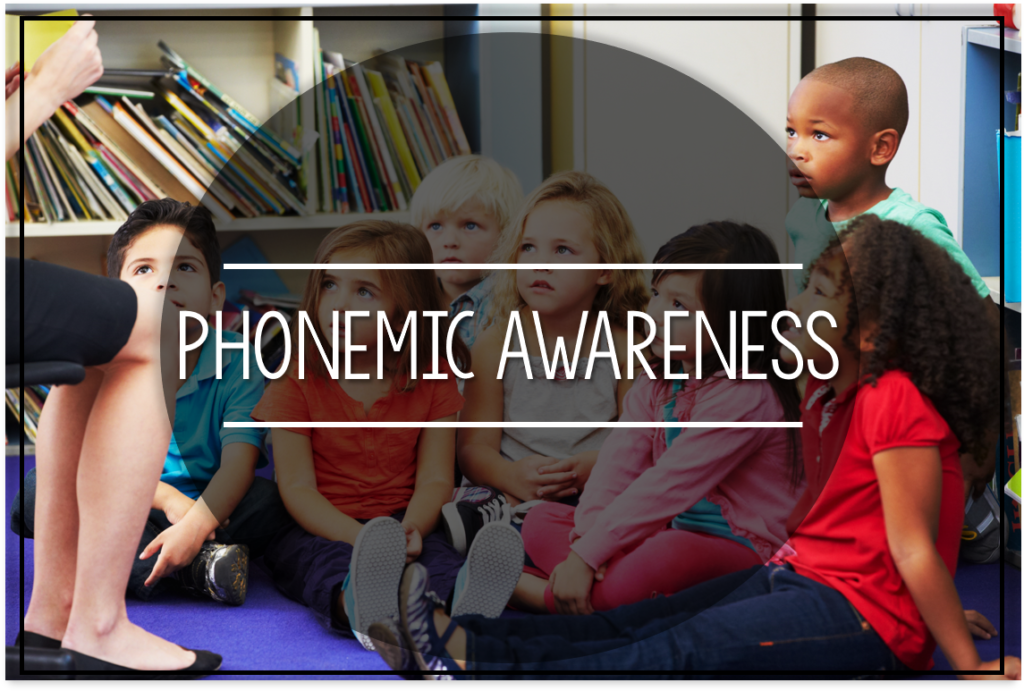 Happy day! Thank you for taking time to chit chat with me today! We recently touched on guided reading and numbers! Today I want to talk all things PHONEMIC AWARENESS!

Phonemic awareness has always been one of my favorite "skills" to teach! I think it's because we see the kiddos progress through the skills as the year goes on and you see the light bulbs go off for each! In today's post we will chat phonemic awareness in general, share a sample PA scope for the early learners, PA activities (along with FREEBIES), and some more bits thrown in! Let's get started!

What exactly is phonemic awareness and what does it mean for our students?
I'm not sure about you but I never covered phonemic awareness thoroughly in my college studies. I mean we of course talked about rhyming and a little about the phonemic awareness "umbrella" but that was about it!
Researchers state that phonemic awareness is only the single MOST crucial building block for reading instruction! That right there friends is PROFOUND! We of course know the importance of phonics in reading instruction (Master letters so they can then master sounds… once they know the sounds the of course reading words follows. We also don't forget about sight words knowledge in the phonics category). However, along with those strong phonics skills our kiddos still need the same amount of learning opportunities with phonemic awareness!
Now let's chat the scope and sequence or progression of skills for phonemic awareness. The PA triangle and umbrella are both great visuals for this!
In the early grades what exactly is our ULTIMATE goal for phonemic awareness?
That's right! The ability to break down those words AND put them back together is really where we want to get our kids. However, we want to be careful not to push it too quick! There are other vital building blocks for P.A.
For repeating sounds/sentences we can make this as simple as routines or add a little more flair! For example, if you're wanting a simple routine you might share, "Friends, today I am going to say a set of sounds and you will repeat those sounds for me. /T/, /T/, /S/. Can you repeat that for me?" You can increase the rigor by asking, "What sound did you hear twice? What sound did you hear once?" Keep in mind that you might need to have the students repeat this set of sounds multiple times or before each question you ask of them. We know that phonemic awareness is all about "eyes shut" but some students will NEED visuals! Don't get so caught up on the visual/not visual… that's really more about seeing letters! I love to include visuals for those that need that. For example, you can hold up a colored connecting cube for each sound. Below shows cubes for the set of sounds I stated above. The students will see that the green repeated!
There are also fun ways to work on repeating sounds/words with fun and engaging sounds! Here are a few of my favorites!
For repeating sentences you will follow a similar routine as above but this time you change sounds out for words. "Friends, today I am going to say a set of words and you will repeat those sounds for me. I see the cat. Can you repeat that sentence for me?" You can ask a follow up question on how many words were in the sentence.

With repeating sounds, words, or sentences you can make it FUN by adding in different voices. You can use your robot voice, cowboy voice, etc!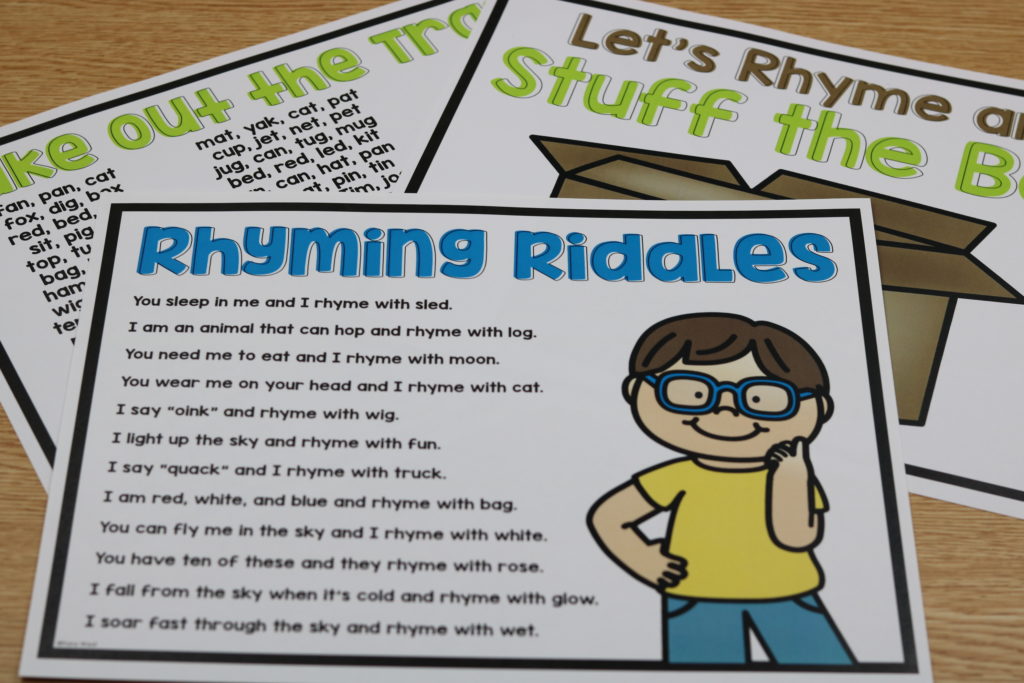 Up next let's chat rhyming! Rhyming is one of those things as early ed teachers we know our kiddos need to learn… but sometimes there are kiddos that just can't get rhyming to click! I feel it's super important to offer a variety of ways to teach rhyming to help those varying modes of learning!
Anytime we can make a skill more of a "game" the engagement goes up and the learning! For rhyming I love to do rhyming riddles. The students find them to be fun and they really show those that can follow along with an oral set of words! You can get this set of rhyming riddles for free by clicking **HERE**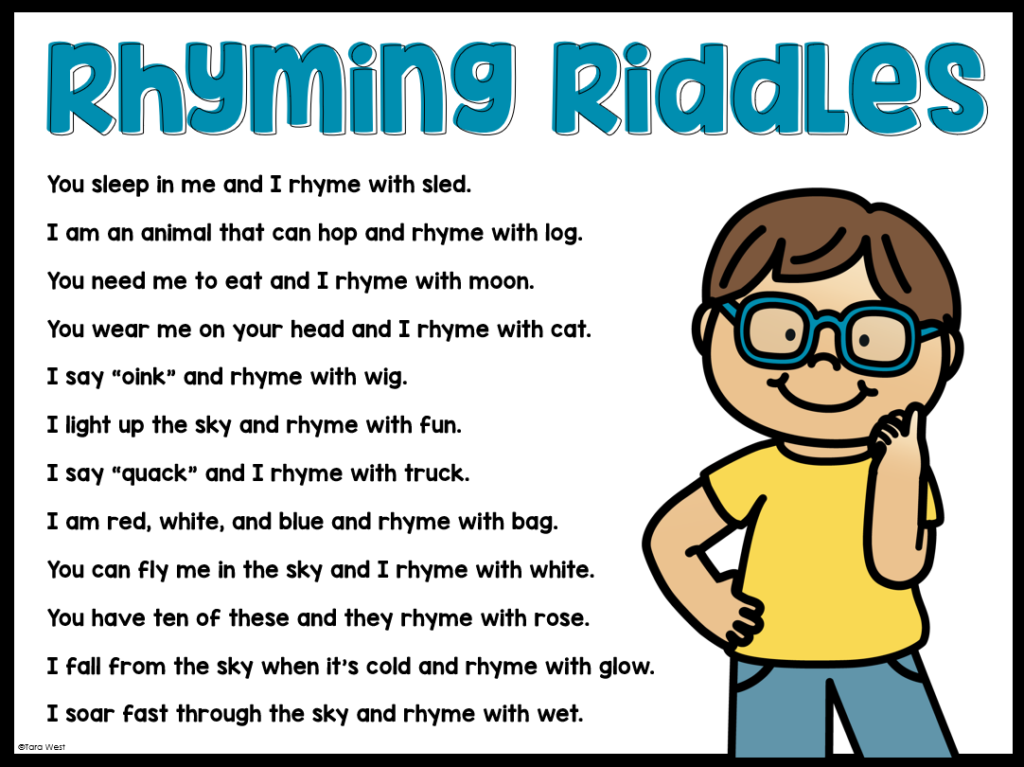 Another rhyming game the kiddos love is called Take Out the Trash. In this game the students work on eliminating the word that doesn't rhyme. That's the word they will take out to the trash. You can get the game for free by clicking **HERE**
When it comes to generating rhymes, "Stuff the Box" is my favorite game! In this activity you can use an empty box. The activity can be as simple as putting a "pretend" item into the box, using real life items, using picture cards, or allowing the kiddos to illustrate an answer. The students stuff the box with as many words as they can. For example, "Today we are going to stuff the box with words that rhyme with cat." You can get this poster for free by clicking **HERE**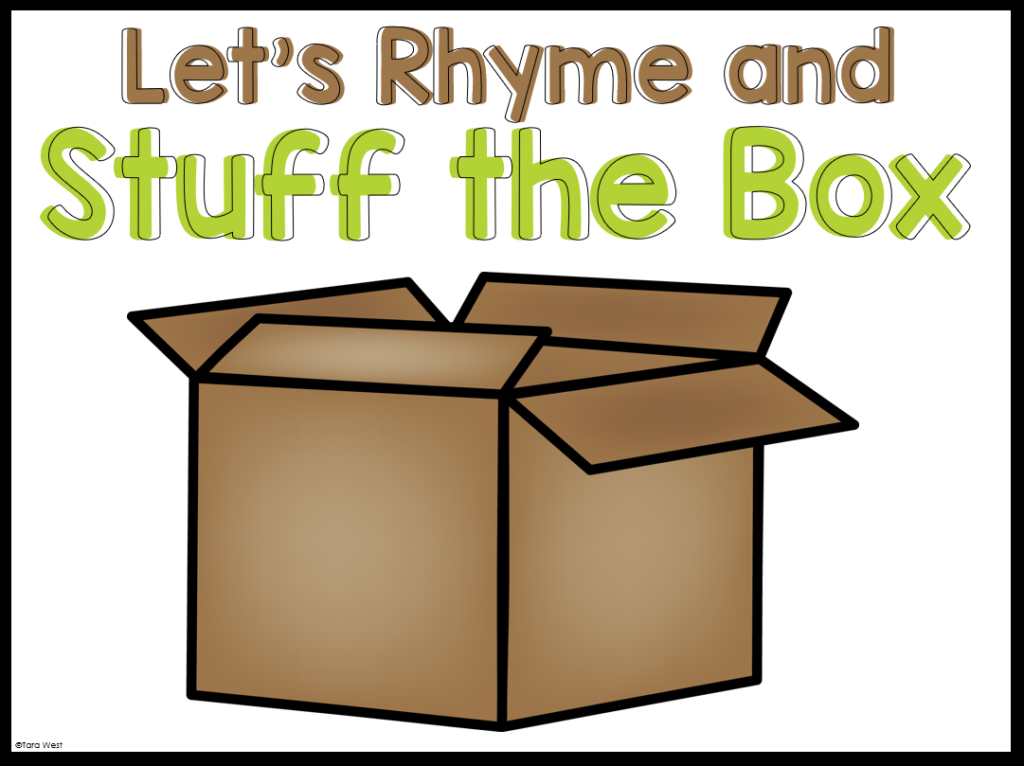 I have! Who Has? cards are always a fun way to learn any skill! You can get this game for free by clicking **HERE**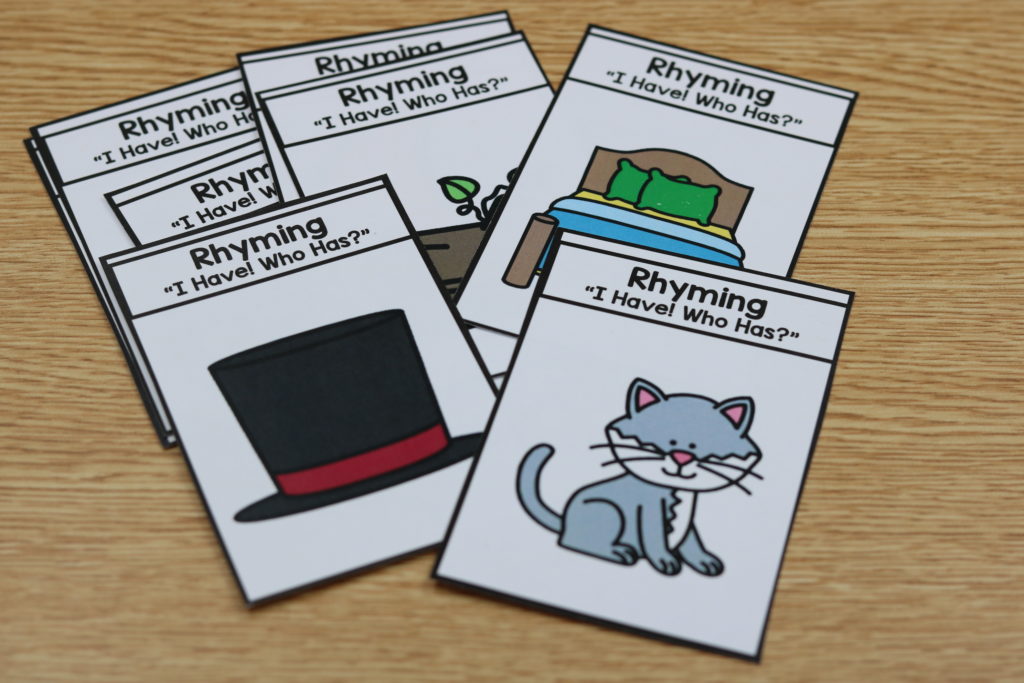 When it comes to rhyming simple oral routines are just as effective! However, sometimes on the spot it can be tricky to generate a list of rhyming words! I created this set of "On the Go" rhyming routine cards! Have these printed and with you when working on rhyming will lend you a hand! You can download these freebie rhyming on the go cards free **HERE** I will share more about them later bu you can find additional on the go routine cards **HERE**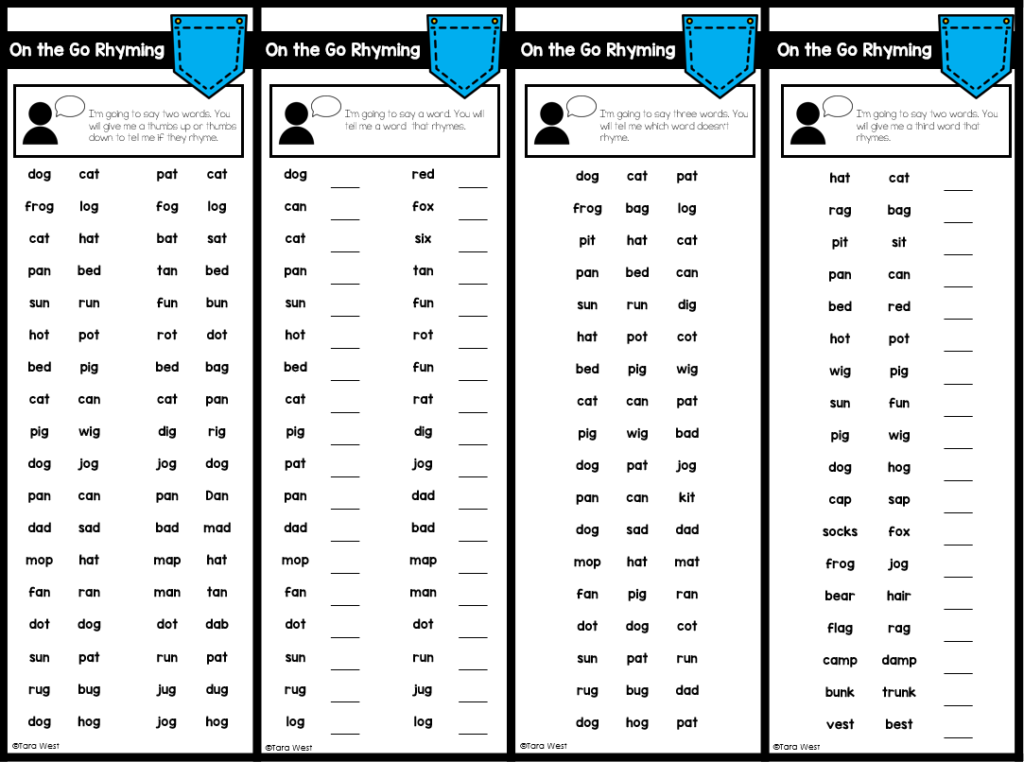 Below are some additional ideas for teaching rhyming in your class! The "Have you ever?" song is my favorite! For this one the students get to help you generate rhyming pairs. Have you ever seen a fox in a box? No, I never ever ever saw a fox in a box. Have you ever seen a cat in a hat? A dog in a log? A bear in chair? You get the point!
Let's move on to the next skill –onset and rime!
To help get the kiddos to really understand those two parts combining for one word I like them to use their hands!
I also have a few activities you can implement in your classroom to practice onset and rime in a little more hands-on way! These could easily be placed into a center! YES, they have letters… but the kids are ultimately working on the skill at hand! if you are using the below cubes you as the teacher can be reading the parts. The students will simply be repeating the onset and rime. You can download these freebie cubes **HERE**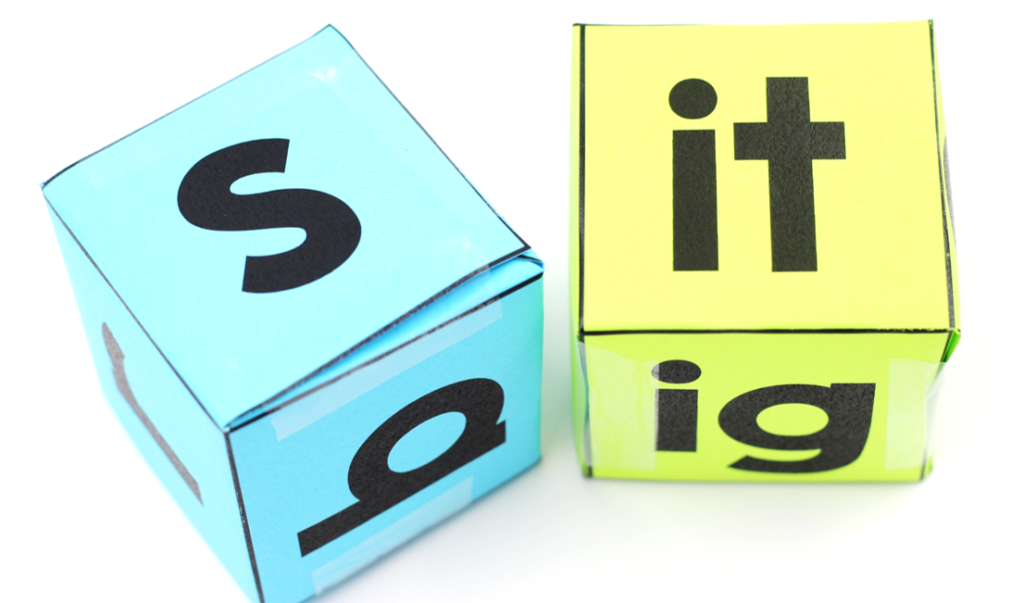 Onset and rime "flip books" are a fun way for students to visually see the two parts! You can download these for free **HERE**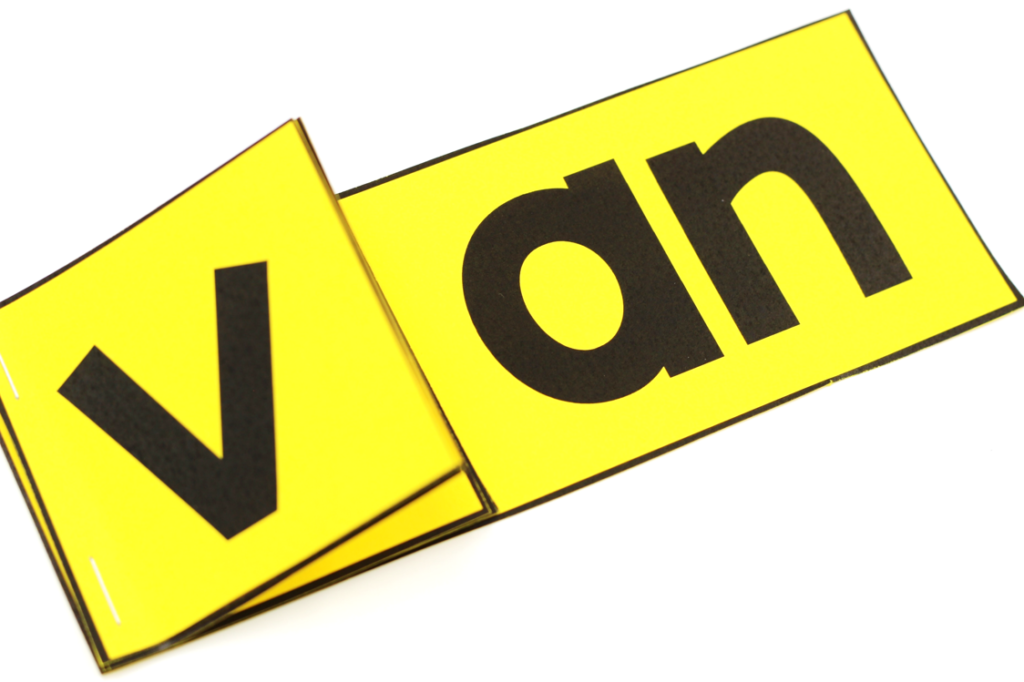 Below you can see a version of modified sound box cards. These sound box cards work with the (missing) onset and rime! The students can use magnets or simply write in the missing sound. You can download these for free **HERE**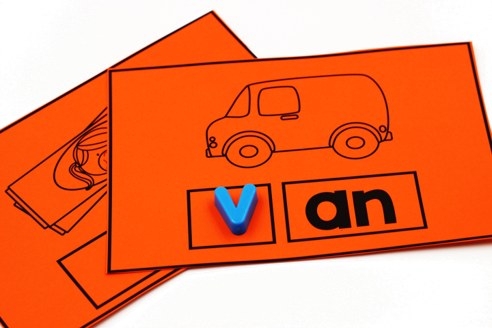 Onset and rime (picture assisted) cards are great as well! You can download a freebie set **HERE** You can grab an entire set of these cards by clicking **HERE**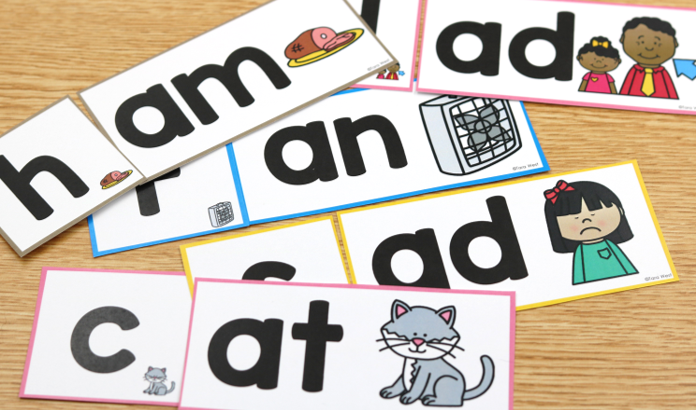 Now onto my favorite PA skills— segmenting & blending! I think I love this skill so much because it has such an impact on a student's reading AND writing!
You can never bring in enough "novelty" items to help with phonemic awareness!
Take a look below at my PA tool kit! Guess what? All of these items are from the Dollar Tree! I have mini slinkys, cars, glass gems, and cat balls. YES, I have cat toys in my PA tool kit. The cat balls have bells inside them and are great for syllables and much cheaper than maracas!
How else can you keep it interesting when teaching segmenting and blending?
How about some phoneme segmentation freebies for you? You can grab these segmentation stretchers by clicking **HERE** The idea of these cards is you (or the student) will state the word, stretch the sounds, and then put the word back to together. For example, lip, /l/, /i/, /p/, lip.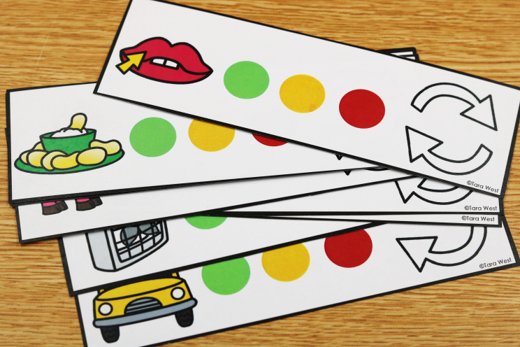 Sound boxes are of course one of the most used tools for phoneme segmentation! I have those for free, too! You can see I did a little twist on the sound boxes with the colored dots. These will the students to visually connect with those BME sounds! You can download a free set of sound boxes **HERE**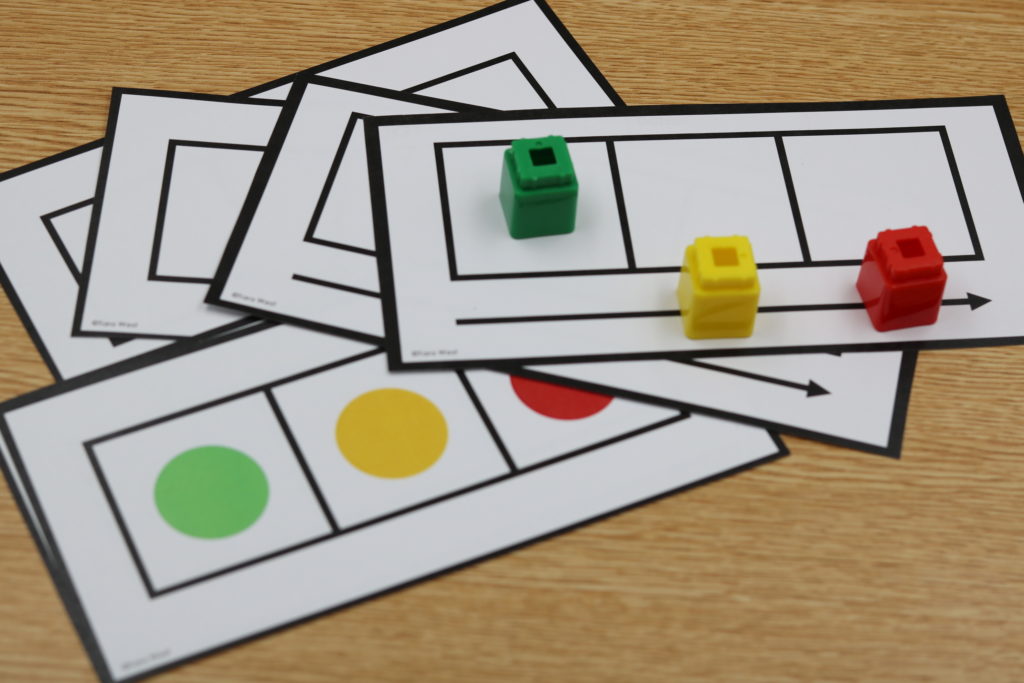 Let's recap! With PA you most likely will starting with rhyming and repeating single sounds/sentences! You will venture into syllables and then ultimately to segmenting and blending!
With PA we will don't want to forget about the assessment component. Now I'm not trying to say I think it's necessary (not like you don't have enough assessing already). However, in general PA is taught with oral routines as a class. It can be really tough to see who "has it" when a class of 18-25 is answering chorally. A quick PA assessment like the one below will be a great indicator for you. This PA assessment can be download for free **HERE**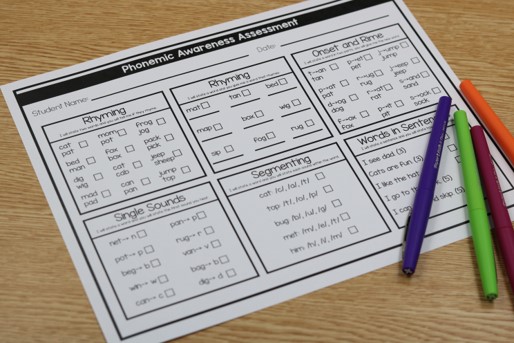 We know the importance of PA but sometimes it can be TOUGH to know when to fit it into our schedules. I love squeezing it in ANYWHERE and EVERYWHERE! For example, morning meeting is a great time. A PA routine can take you about 2-3 minutes! It doesn't need to be LONG to be EFFECTIVE. Another great time is the start of your whole-group reading block, phonics block, back at your guided reading rotations, or in the hallway! YES. I said in the hallway! If you are sending in kiddos to the restroom, waiting to take your kids to specials, in the lunch line, etc. All of those small, small snippets of time can be used for PA. Over the summer I shared this little tip along with the freebie set of on the go cards. Teachers LOVED this idea so much that they asked me to make On the Go Routine cards for ALL of the PA skills!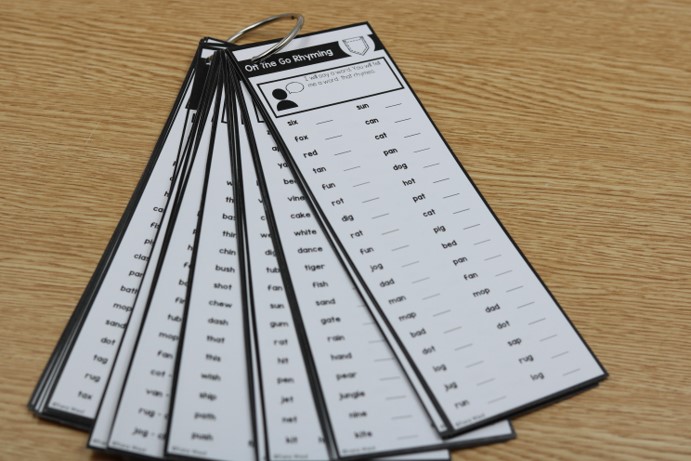 What skills are included?
syllables
words in sentences
identifying rhyming pairs
generating rhyming pairs
beginning sounds
middle sounds
final sounds
short vs. long vowel sounds
digraphs
blends
manipulating sounds
stretching sounds
blending sounds
onset & rime
You can snag these cards **HERE**
The on the go routines are amazing but sometimes we need something a little "more" like curriculum style! I had previously made a curriculum called Phonological Systematic Routines. These routines cover all of the PA skills you'll need to cover! The great thing about this program is you can teach the skills in YOUR order… you can also go as FAST or as slow as you'd like!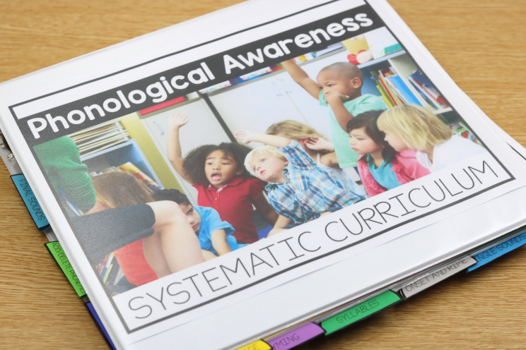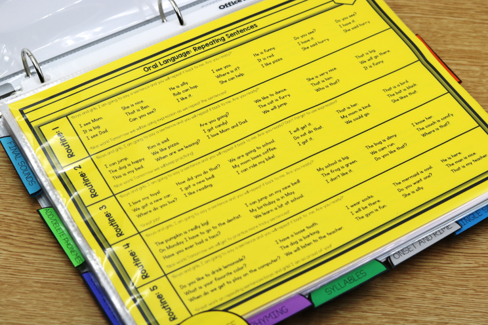 Below you can see what the routines look like visually! Just a reminder that this program of course is oral so these would be the teacher directions you read/follow. What I love about this program is everything is there for you! There's no making up your own words/phrases on the fly! As I mentioned above, the routines can be taught at your own pace. You could actually teach the entire page below in one day if you chose (teaching a routine during morning meeting, whole-group reading, phonics block, guided reading, etc).
What I love about this program as well is it's included ASSESSMENTS!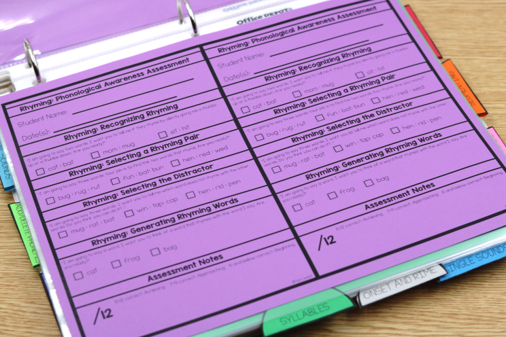 The program is so easy to prep (print and bind or place it into a binder). I also include binder labels for you in the packet itself.
The set I have created for you comes with 200 ready-to-go routines. You can grab this curriculum **HERE**

I actually have TWO sets of this program! They both cover the same skills… just all new/different routines! Teachers LOVED set 1 so much that they asked for a second set. A lot of teachers have two sets so they can keep one set at the front of their classroom and set 2 at their guided reading tables!
You can view the set 2 of the Phonological Routines curriculum **HERE**
Below you can find the list of skills covered in these routine programs! Ps. this is a perfect scope and sequence for teaching PA skills if you don't already have a scope!
What Skills are Covered?
Oral Language:
Repeating a sentence
Clapping a sentence
How many words in a sentence
Listening to words to determine similar sounds
Rhyming:
Listening to rhyming pairs
Recognizing rhyming (true or false)
Selecting a rhyming pair from 3 words
Selecting the distractor from a set of 3 words
Generating Rhyming Words

Syllables:
Segment syllables
Adding a syllable and giving the new word
Deleting a syllable
Onset and Rime:
Blending onset and rime
Segmenting onset and rime
Single Sounds:
Repeating single sounds
Isolating single sounds
Alliteration
Blending:
Blending compound words
Blending syllables
Blending Phonemes
Segmenting:
Segmenting compound words
Segmenting words by phoneme
Segmenting words w/ digraphs
Segmenting words w/ blends
Medial Sounds:Isolating medial sounds
Isolating complex medial sounds
Final Sounds:
Identifying final sounds
Phoneme location
Adding Phonemes:
Adding words
Adding Phonemes
Deleting Phonemes:
Word deletion
Deleting phonemes
Substituting Phonemes:
Substituting words
Substituting initial phonemes
Substituting medial phonemes
Substituting final phonemes
Substituting long & short sounds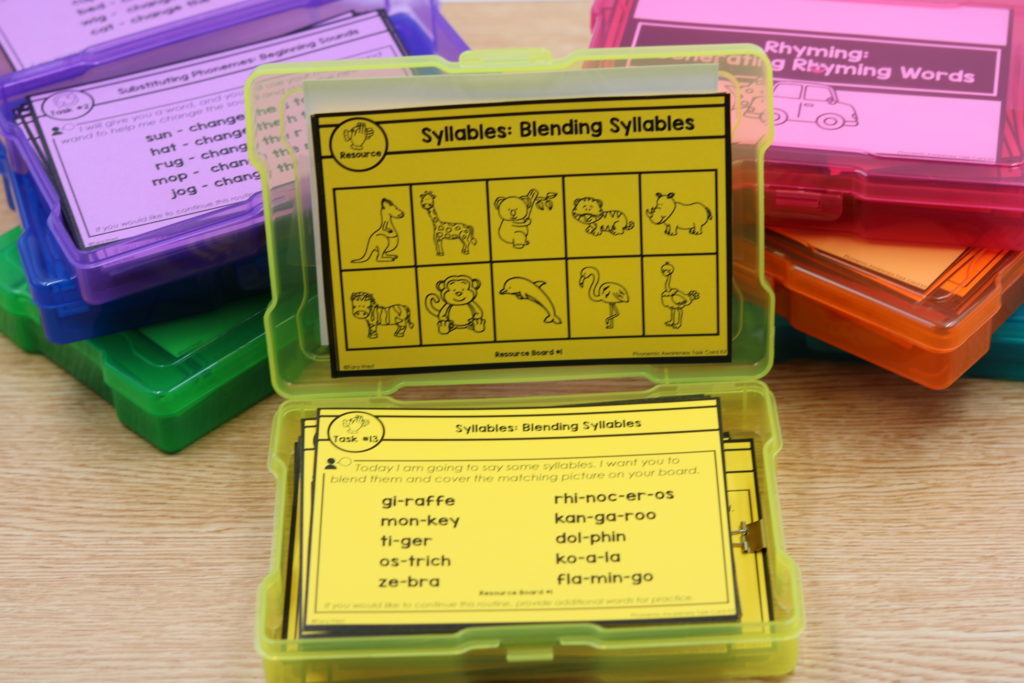 I also wanted to share about my newest phonemic awareness set which are my task cards! These cards are great for your guided reading group! You can work through a set of cards as quick as you'd like to! The cards also include hands-on material to make learning the skill even more engaging! You can view the Phonemic Awareness Task Cards kit **HERE**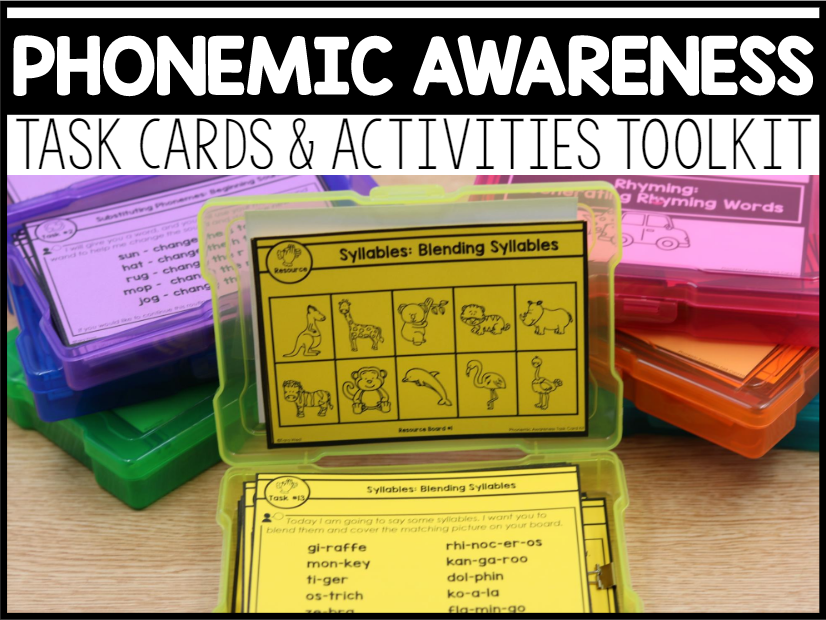 If you are wanting more center based material for PA then I have you covered, too! You can view the Phonemic Awareness Mega bundle **HERE**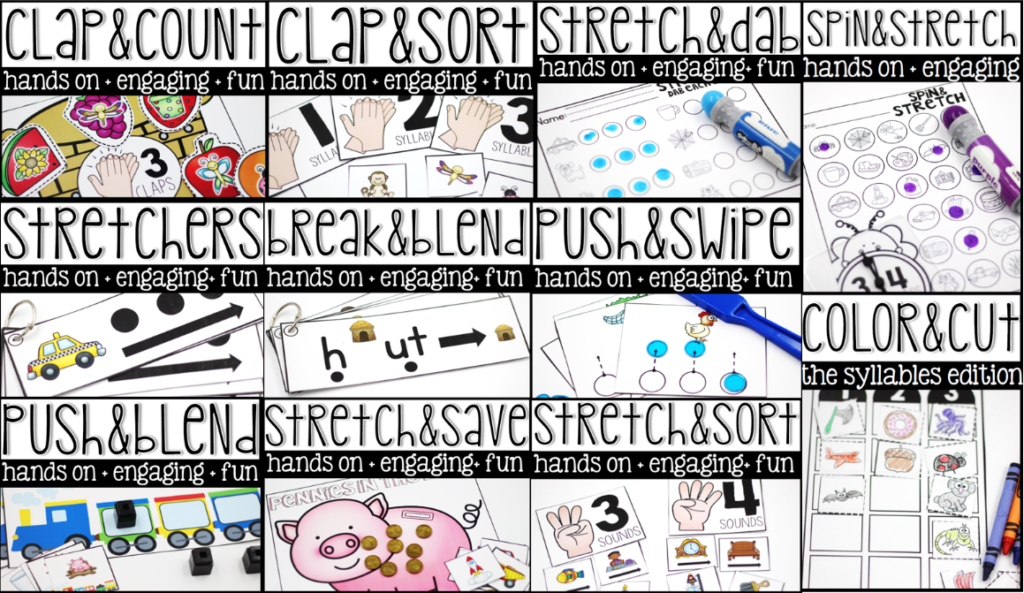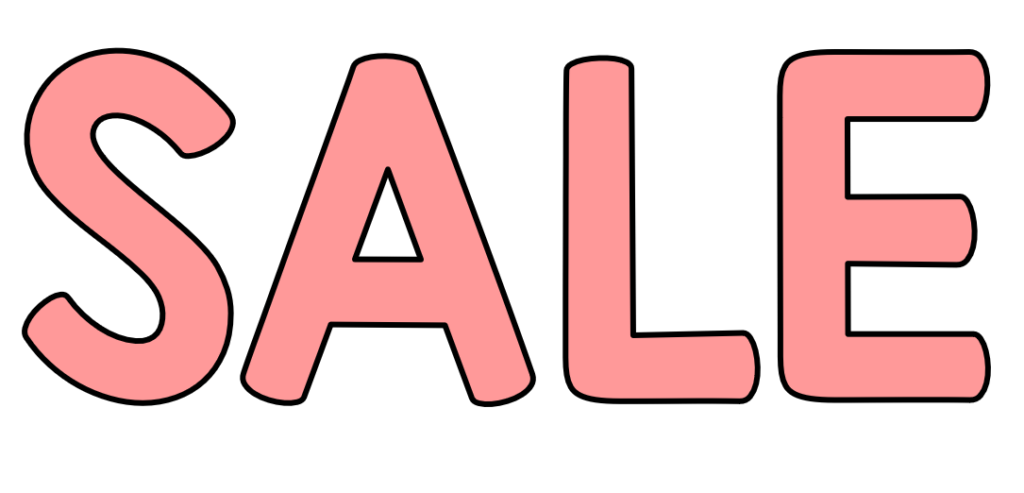 You can grab ALL of the packets I shared here today on sale for 30% off! WOOT! This sale is for a short time so you'll want to snag them quick! You can view the packets below!

>>> ON THE GO ROUTINE CARDS <<<

>>> PHONEMIC AWARENESS CURRICULUM SET 1 <<<

>>> PHONEMIC AWARENESS CURRICULUM SET 2 <<<

>>> PHONEMIC AWARENESS TASK CARDS KIT <<<

>>> PHONEMIC AWARENESS MEGA CENTERS BUNDLE <<<
Have an amazing week!

XO- Tara