CENTERS: ORGANIZATION, FREEBIES AND CENTER SKILL MAPS
Happy Wednesday and thanks so much for stopping by!  Today I will be talking all about CENTERS! I will be sharing my favorite center time tips an organizational ideas.  You will also have a chance to download a ton of FREEBIES so keep your eyes peeled for those as they'll be throughout the post!
The first center I wanted to mention is my brand new Stretch and Write packet!  This packet was a request by many of YOU!  Teachers were wanting a packet that allowed their kiddos become strong and independent word writers.  We know how important it is for the kids to become confident in their word writing but it's a big struggle bus!  This packet gives them the "tools" to write words… we must first STRETCH to hear the sounds and then put those sounds onto the paper!  Lastly, we will check to make sure our sounds are correct!
Below I will break down the student tasks of each sheet!
STEP ONE: State the picture name. (This is done best if we allow them to say it aloud.)
STEP TWO: Stretch the sounds you hear within the word. (This is done best allowing the kiddos to use their fingers to see how many sounds.)
STEP THREE: Students will then write those sounds down into the sound boxes.
STEP FOUR: The students will check over their work and then restate the picture name once more. (/c/, /a/, /t/, cat)
*Center trick* Use sheet protectors or dry erase pouches.
Let's say you LOVE the concept but you are still a little uneasy about them writing the sounds (young learners that possibly don't have fine motor skills to write), then those kiddos can "push up" the sounds in the sound boxes!  Below I show the use of magnetic chips and magnetic bingo wands!  This is also SO fun for the kiddos!
Snap cubes work well as well!
To further the differentiation, I have included 3 versions of each sheet!  The above shown version would be traditional version.  Below you can see the "assisted write
version.  This version takes all of the sheets and offers the students one given sound!  This will help those that aren't quite ready for the above sheets!
The given sound is not always the medial!  It can vary between the beginning, medial and ending!
An independent write version is the last version!  This version takes all of those original sheets and replaces the sound boxes with a writing line! The would be for the kids that do not need the assistance of sound boxes!
Below you can see all three versions and the difference between them!
*Center Tip* Place the laminated sheets on a metal ring!
*Center Tip* Place the pages you wish students to work on into a binder!  This will great for quick clean up!  You would just swap out the pages as the skills change!

Interested in trying out this packet?  Click below!
What is included in this packet?
– 75 stretch and write sheets (offered in 3 differentiated levels)
Skills covered: CVC words, word families, alphabet, double ending, CVCe, digraphs, blends, vowel teams, and diphthongs.
Word Families Included: an, ap, ad, ag, am, at, ed, en, et, in, ip, op, ot, un, ug, all, amp, and, eck, ell, ick, ill, ock and uck.
You can click below to view this packet!
Up next I would like to share with you all about my new Puzzlin' It packet!  These puzzles are FUN and ENGAGING which are two thumbs up to a five-year old! As you can see it's just like a real puzzle BUT it is educational!

The students are given the game board.
They will then use the picture pieces and place them over the answer key mat!  The puzzles are self-correcting because the kiddos will know immediately if their answer as incorrect when their picture turns out wonky!
Would you like to try out a puzzle for yourself?  Download the onset and rime puzzle from above for FREE! Click below!
Let's look more closely! The packet is made up of both math and ELA puzzles!  The puzzles are themed for the seasonal times of the year and holidays!  Below you can see an example of a subitizing math puzzle!

The skills for ELA and Math vary so it's no the same skill covered!  For example, below is a beginning sounds puzzle!

Alphabetical order puzzle…

Word family puzzle…

*Center Tip* Place a matching colored dot on the back of the mat and matching pieces!  If pieces get lost you'll be able to fins its match!

*Center Tip* Help with correcting even more by writing the matching words on the back of the cards!

*Center Tip* Store these centers in clear plastic baggies!  This is especially great if you are using the puzzles during morning work!
How many puzzles are included?
– 99 puzzles included covering (Fall, Halloween, Christmas, Winter, Spring and Summer)
If you're interested in taking a closer look at this packet… you can click below!

Up next I would like to discuss a new line of center bundles!  I currently have these bundles for Vowel Teams, Blends and Digraphs!  These three bundles are consistent across each!  This simply means that you can have access to the "same" center but in a new set of skills!  This video shows that in action!
I will go through the digraph activities but each are also available in blends and vowel teams!
Missing Sound Cards!  For this activity the kiddos will be building the word by filling in the missing sound!  The kids can use magnetic letters  or write in with dry erase markers!
*Center Tip* Place the Missing Sound cards on a metal ring.
*Center Tip* Tired of cutting laminate?  Place the Missing Sound cards in a binder and the students can build the words there!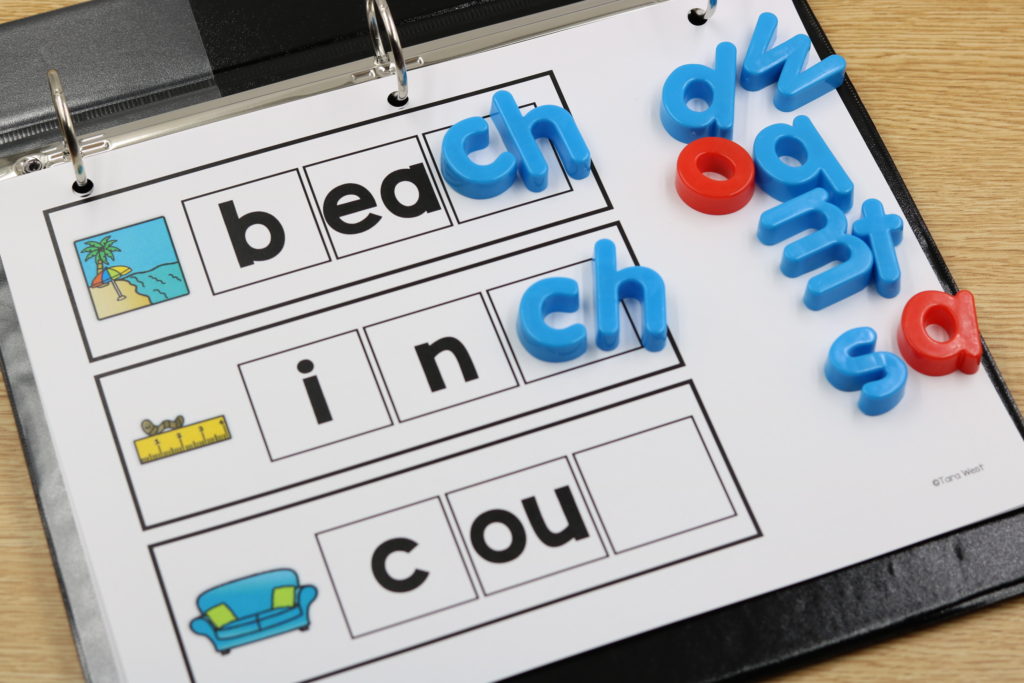 *Center Tip*  Would you rather the students see the digraph as one sound or are running low on magnetic letters? I LOVE using these plastic letter tiles!  You can even get 400 for $19!  Way cheaper than magnetic letters 😉  I also love these if I am wanting to send home letters home with kids and not willing to risk my nice magnetic letters!  I just wrote the letters on with permanent marker!

You can actually use them for any sound/letter!
Build it cards! For this activity the students will build and write the words!

*Center Tip* Place the cards on a metal ring!

*Center Tip*  The Build It cards can also be place into a binder!
Clip It cards!  Who doesn't love clip it games?  The kiddos always love these!

Solo Bingo!  For this activity the kiddos have a bingo board and then a set of matching pictures!  They must read the word and place the matching picture on top!
Sort it out! Is a fun game where the kiddos will place a variety of "sorting rules" onto the board!  They will then sort the pictures into the correct category!
Search and Circle!  This activity has the kiddos search and circle the matching skill words!
Match Up Sheets! The kiddos will search to find the pictures that match the skill!
Spin and Circle!  Who doesn't wanna plan with a spinner?  The kiddos always love these!  Spin and color the pictures that match the skill!

Pull out the dabbers and you have them SOLD!

Pencil it In!  These sheets have kiddos write in the missing skill sound!

Gumballs!  A quick and engaging cut/paste sheet!

Mini Books!  The kids will create mini books to match the skill!
There are currently 12 activity packets in each of these bundles!  However, the bundles are also ENDLESS!  That just means they will be updated with free packets! Want to try out one of the packets from above?  Download the Digraph Sort It packet by clicking below!

If you're interested in the bundles, they are currently on sale for 10 bucks!
Let's break from packets and talk a little ORGANIZATION!  I get a lot of emails asking for any tips/tricks when it comes to organizing your centers!  There really isn't one way that is better than another…really just works best for YOU!  My current obsession when it comes to organizing centers would be to use Iris Scrapbook cases!

If you have my "endless bundles" then you'll know those are broken down by skill focus!  You can download these FREEBIE labels to organize by skill!

You can print the bundle cover from TPT by clicking on the "preview".  You can then attach that to your scrapbook case as well!
I also like to print the cover of each packet in a reduced format!  I place that on the outside of the baggy!  That helps me to organize AND I can simply throw this whole bag into the center and the kiddos will know when picking up to put it back in here!
I have also invested in these little baggies from amazon!  They too are awesome for storing!  I printed the covers at a reduced size again to fit!
*Center Tip* Store center cards in binder pouches!  These are easy to throw into the student literacy center baskets!  The kids are able to quickly place the supplies back into the binder pouch during clean up time!
Another tip I can share is that changing out centers used to be a COMPLETE NIGHTMARE!  I would have my entire teacher's table covered with old centers that needed to be put away.  I would have magnetic letters everywhere and I would end up being lazy and stuffing it somewhere!  I started placing the necessary materials in the same baggy!  This helps because I don't have to worry about shoving somewhere!  The next time I need this center, then everything is already there!
The same with 'worksheet' based centers!  I keep any extras I had leftover, needed supplies like markers/spinners/glue sticks, etc and the master sheet for printing in the future!  Again it might sound crazy but to just pull out the baggy and not have to go hunt around the classroom was a LIFESAVER!

If you are wanting to cut down on your colored ink then printing on colored card stock works awesome!  I actually love it because it helps with the organization as well!  You can see each letter sort has its own color!

Another tip would be to use your computer's "snipping" tool to snip several packet overs at once!  This will help you to print several reduced sized covers at once!

When it comes to organizing my themed centers I would suggest trying this!  Print out each center's cover page!  Attach the cover page onto a yellow mailing envelope!  You can then store the centers flat, close the envelope when not in use and have the visual of the center there!

Now that we are talking about themed centers, let me tell you about my NEW bundle!  I currently have themed centers for kinder, first and second grade!  I also just made a new K-1 bundle!  This bundle allows for differentiation using "like" centers but in a varying skill levels! This is perfect for those varying levels in your classroom! When organizing the themed centers, I like to print the packet cover and place it onto the outside of the box!  If you can fit 2-4 themes in the box, then you'd just resize them smaller!
Again, printing the center covers out so you can attach them to yellow envelopes!
I also just posted this new Themed Centers skill focus maps doc!  You can quickly click through to view the centers that are included, along with their academic focus!  You can download that freebie download HERE!
The new K-1 centers also include "I Can" cards!  These are great for leading the students in being independent during center time!
Up next,  I will go over the K-1 centers so you can see first hand how the differentiation is covered!
First Grade: Place Value Dishes

Kindergarten: Subitizing Dishes
First Grade: Fishbowl Arithmetic

Kindergarten: Pet Store Weight

First Grade: Playful Sentences
Kindergarten: Playful Sentences

First Grade: Turtle is Home

Kindergarten: Turtle is Home
First Grade: Fishy Sounds
Kindergarten: Fishy Sounds
First Grade: Spin and Cover
Kindergarten: Spin and Cover

First Grade:  Bunny Compounds

Kindergarten: Bunny Rhymes

I hope you were able to see how the centers build upon the two grade levels!  This bundle is a set of 20 themes and 280 centers!
All of my themed center bundles are currently on sale for $25 …an absolute STEAL! You can view more of them directly below!