The INSTANT Writing Center (giveaway included!)

Thanks so much for joining me today! We are going to talk all things… INSTANT WRITING CENTER. I absolutely love the writing center or work on writing for daily five! However, it can be TOUGH finding appropriate material to replenish the writing center each week/month. After you swap out the material then you have a new dilemma– teaching the sheet so that the students will be able to do it independently.  That's when I decided to tackle these two issues and create my new writing center! My new INSTANT writing center offers MATERIAL on MATERIAL… you will never run short! I also use the same 5 activities for each theme! That means you'll just need to teach the 5 activities ONE TIME and then you're S-E-T! Below I will be sharing more about the writing center! I will also be sharing a  giveaway!
What is included in the INSTANT Writing Center?
– 660 word cards (6 word cards per 90 themes)
– 5 activity posters (2 sizes available)
– 110 center theme display posters
– 3,800 activity sheets (346 pages per month)
– Start Up Guide
What makes the INSTANT writing center so unique?
This writing centers rocks SIMPLISTIC BLISS! What does that mean? This packet allows you to teach the 5 activities and then have them simply repeat for each theme! This allows you TIME that you are not repeating directions each month!
Watch a video of the writing center below!
---
---
The Thematic Writing Center includes word cards and independent writing sheets for the entire school year. Each month covers ten themes for a total of 110 themes. The themes can be interchanged between any months. The themes are independent of one another and can be swapped to fit your needs.
Each theme has 6 word cards for a total of 660 word cards. The cards can be displayed for students to access. Along with the word cards, each theme comes with twelve activities. The twelve activities are repeated for every theme so that the task only has to be taught once.

Below you can see the writing center set-up a bit closer!
The writing center covers 110 THEMES!
September: Apples, School, Transportation, Fairy Tales, School Helpers, Park, Family, Feelings, School Supplies, School Subjects
October: Halloween, Fall Animals, Fire Safety, Owls, Fall, Pumpkins, Jungle Animals, Three Little Pigs, Three Little Bears, Three Billy Goats
November: Thanksgiving, Native Americans, Then and Now, Scarecrows, Veteran's Day, Maps & Globes, Community, Harvest, Reptiles, Mammals
December: Reindeer, Gingerbread, Christmas, Holidays, Needs, 5 Senses, Polar Express, Winter, Colors, Manners
January: New Year, Arctic Animals, Snow, Bears, Winter Sports, Woodland Animals, Hibernation, The Mitten, Penguins, MLK
February: Dental Health, President's Day, Valentine's Day, Germs, My Body, Friendship, Groundhog's Day, Castles and Kings, Western, Travel
March: St. Patrick's, Dinosaurs, Moon, Snakes, Spring, Pond, Pets, Construction, Exercise, Healthy Food
April: Easter, Frogs, Butterflies, Plants, Weather, Farm, Bugs, Space, Ponies, Chickens
May: Zoo, Ocean, Community, Pirates, Beach, Summer, Bedtime, Koalas, Picnic, Camping

What activities are included in the writing center?
Just a reminder that these FIVE activities are replicated for all 110 THEMES!
The following activities are included for each of the 90 themes. Each of these systematic activities allow you the simplistic bliss of teaching the activity only one time for the entire school year. Each of the activities include two versions for variety and differentiation.
Below is a breakdown of the 5 activities!

STEP 1:
Create a space where you will implement your writing center. This could be on a bulletin board, dry-erase board (using magnets), or even directly onto the wall.
Next, choose which size of activity posters you want to print. There are full and half-sheet versions available. You can hang these up in the writing center with clothes pins, staples, Velcro, etc.
Then, print out the word cards of your choice. You can choose to display 1-2 themes, 1 month's worth, etc. Display the word cards on the
writing center board or on a metal ring.
STEP 4:
Next, create matching activity basket labels. You can make these yourself or print out the included labels. Attach these labels to your writing center activity baskets.
STEP 5:
Afterwards, fill your activity baskets with the matching included writing center sheets. You can choose to put out the same sheet multiple times or put out a variety using the five included versions.

Not sure if the writing center will work for you? Read what other teachers are saying…
You can snag the INSTANT Writing Center bundle for 50% OFF through midnight EST Sunday, January 13th! You can view the bundle HERE.
You can also enter below to win items in my writing center! The items below are valued at $100! The giveaway runs through Sunday as well! Enter below on the Rafflecopter or click HERE.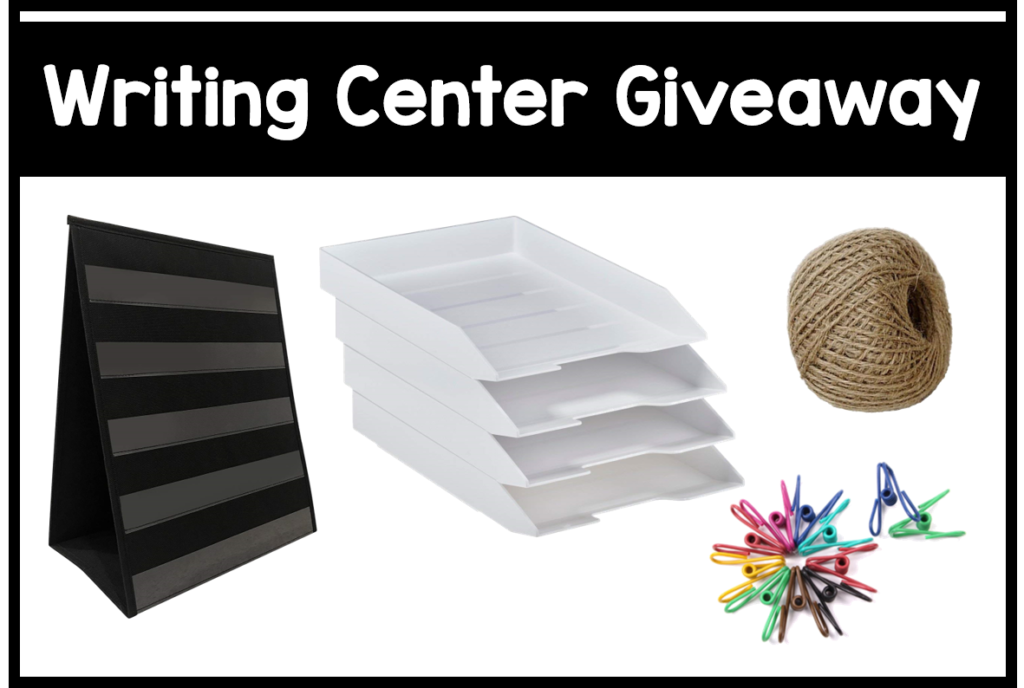 Thanks so much for joining me today!